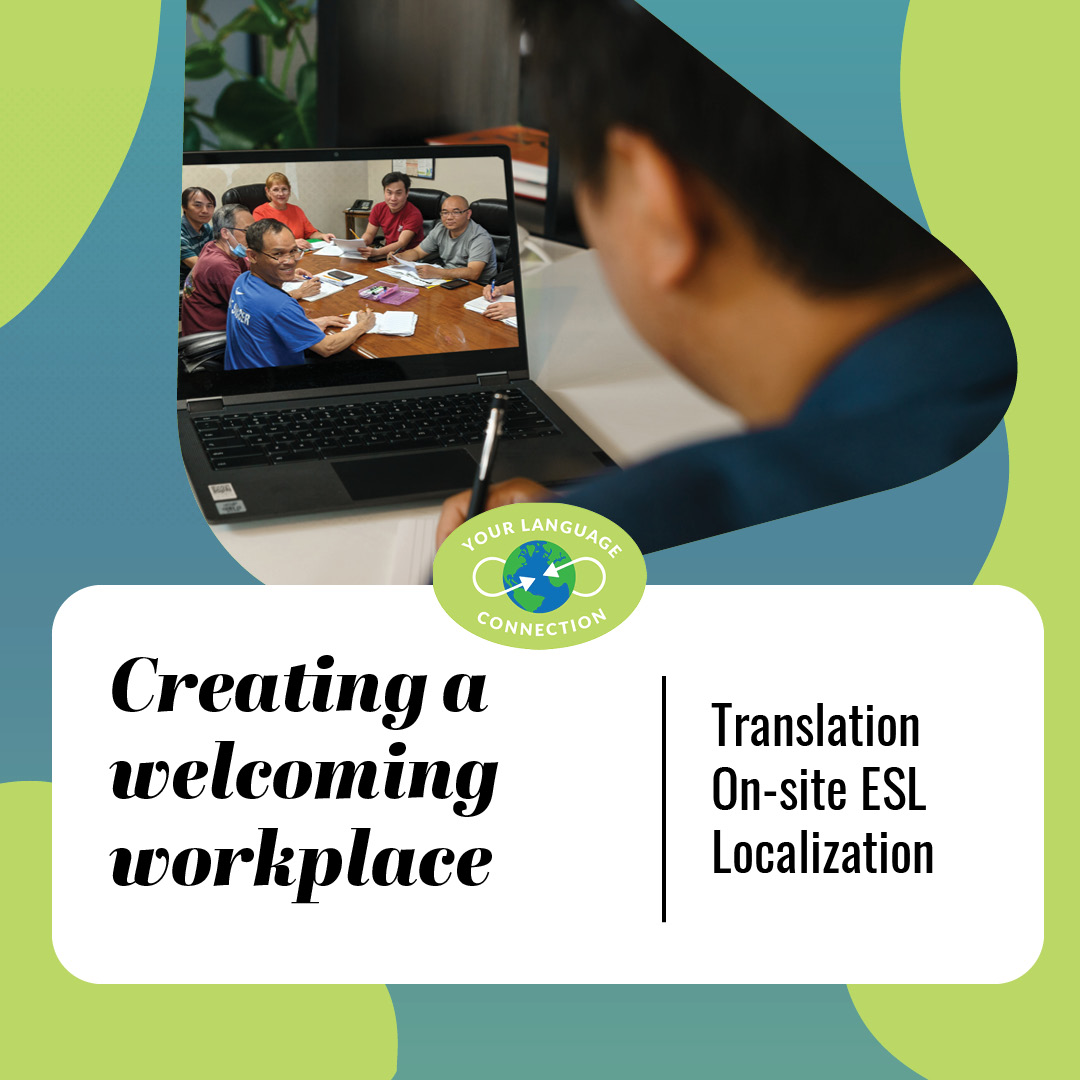 1. Professional interpretation and translation
Many companies use bilingual employees to interpret and translate daily. For general day-to-day tasks and conversations, this works. However, when it comes to standards of practice, rules and regulations, and safety information bilingual employees are not reliable. With the number of workplace accidents and injuries, misunderstandings between supervisors and employees, and loss of employees because they don't feel comfortable or welcome in their job, professional interpretation and translation can make the difference. Professional services can prevent injuries and accidents, improve productivity and relationships and help create a welcoming environment that promotes
employee retention. 
Visual aids, demonstrations, patience, eye contact, and respect can make a big difference for non-English speakers. 
Contracts, safety training, standards of practice should all be translated professionally. For illiterate employees, visuals must be created. Hiring professional interpreters, either virtually or in-person, shows that you value your employees enough to ensure that your message is not lost in translation. Professional interpreters and translators ensure quality and consistency, as well as acting as cultural brokers when the situation calls for it.
2. On-site ESL classes.
Language is what connects us and makes us visible to one another. It produces a conduit to build relationships. Customized on-site English classes allow employees to practice English skills with exercises and material that are also relevant to their jobs. Employees who understand their tasks and the expectations clearly are more productive. When it takes employees a long time to understand a task because their English skills are lacking, this is time and money wasted. Building better communication skills in English will translate directly into an employee who is ready to learn and take on new tasks easily. The opportunity of career advancement is also more attainable with increased English skills. Companies such as McDonald's, Walmart and the Hyatt have benefited from offering their employees on-site ESL classes. 
"ESL is a very good way to support your non-English speaking employees to not only help them grow in the company but also in the community. Provides the ability to form a better relationship with all employees so both employee and employer can better understand the challenges we all face in the world today.  

It also provides a great resource for teaching commonly used words related to Specific Jobs, Safety & Benefits.

Not sure how companies can grow today without using this valued resource.

Each and every teacher that you have sent into Vallorbs is very professional and very knowledgeable to complete the task at hand. Our employees can't say enough good things about them."
General Manager
Vallorbs Jewel Company
Research found that workplace English classes do more than attract non-English speaking immigrants who are eager to expand their language skills. They benefit businesses because improved English proficiency correlates with increased employee engagement and retention. Companies often provide English language training with the goal of improving teamwork and morale
YLC can provide virtual or on-site customized ESL classes.
73% of employers reported that refugees have lower turnover rates than the average employee. Investing in this population fosters a sense of loyalty that can significantly impact retention while advancing DEI initiatives in a concrete way.
3. Cultural competency
Many misunderstandings are because of cultural barriers. As humans, we make assumptions according to our past experiences and those who have influenced us during our lifetime. With knowledge, miscommunication and misunderstandings decrease. The five main causes of cultural barriers are language, stereotypes and prejudices, signs and symbols, behaviors and beliefs, and "us" versus "them" (ethnocentrism).
It is important to create opportunities for your employees to learn about their colleague's perspectives and ways of life to build open-mindedness and appreciation.
Focus on the strengths that each culture brings to the mix and discuss how these strengths can be integrated in the way your team works together, handles challenges, and tackles projects. Open communication is the only way that culturally diverse teams can work through and overcome their differences to make them work well together. Physical proximity, hand gestures, body language are all aspects of communication that can create negative feelings and misunderstandings across cultures. 
Constant misunderstandings because of cultural differences can cause a stressful and unpleasant workplace. At its worst it can cause legal issues. Understanding the differences in behavior, values and communication styles will help managers become more effective and successful cross-cultural communicators.
The best way to overcome cultural barriers is to know your audience. Use formal words, avoid slang, idiomatic expressions and regional words. Be mindful of body language and aware of appropriate greetings within the cultures in your workplace. Managing cultural barriers improves communication and collaboration.
Your Language connection offers customized workshops to help your company overcome cultural barriers in the workplace. These efforts can bring invaluable talent during a time when employers are facing record labor shortages.
Frequently Asked Questions:


What are Interpretation services?
Interpretation is the process of translating spoken words from one language to another in real-time. A professional interpreter is a person who can interpret in person, on the telephone or over a video call. You can hire an interpretation service anytime while working with people who do not share your native language.
What are Translation services?
Translation is the process of converting written text from one language to another while ensuring the message and meaning of the original text is conveyed. Professional translators can convert the original text into many languages, and they can translate anything such as websites, manuals and marketing materials. We also offer localization services, which is the adaptation of the new text to the culture and location of whoever its audience is going to be. This is one of the most important aspects of translation.
Why hire a translator or interpreter from Your Language Connection for your business?
Your Language Connection offers professional language services that help businesses communicate better with their clients, staff, and community by not only translating the written and verbal communication but also the culturally relevant information. Your Language Connection's holistic approach to translation helps businesses communicate more thoroughly with their employees and customers.
Interested in Learning More?
Contact us below or sign up for one of the classes listed on our website.