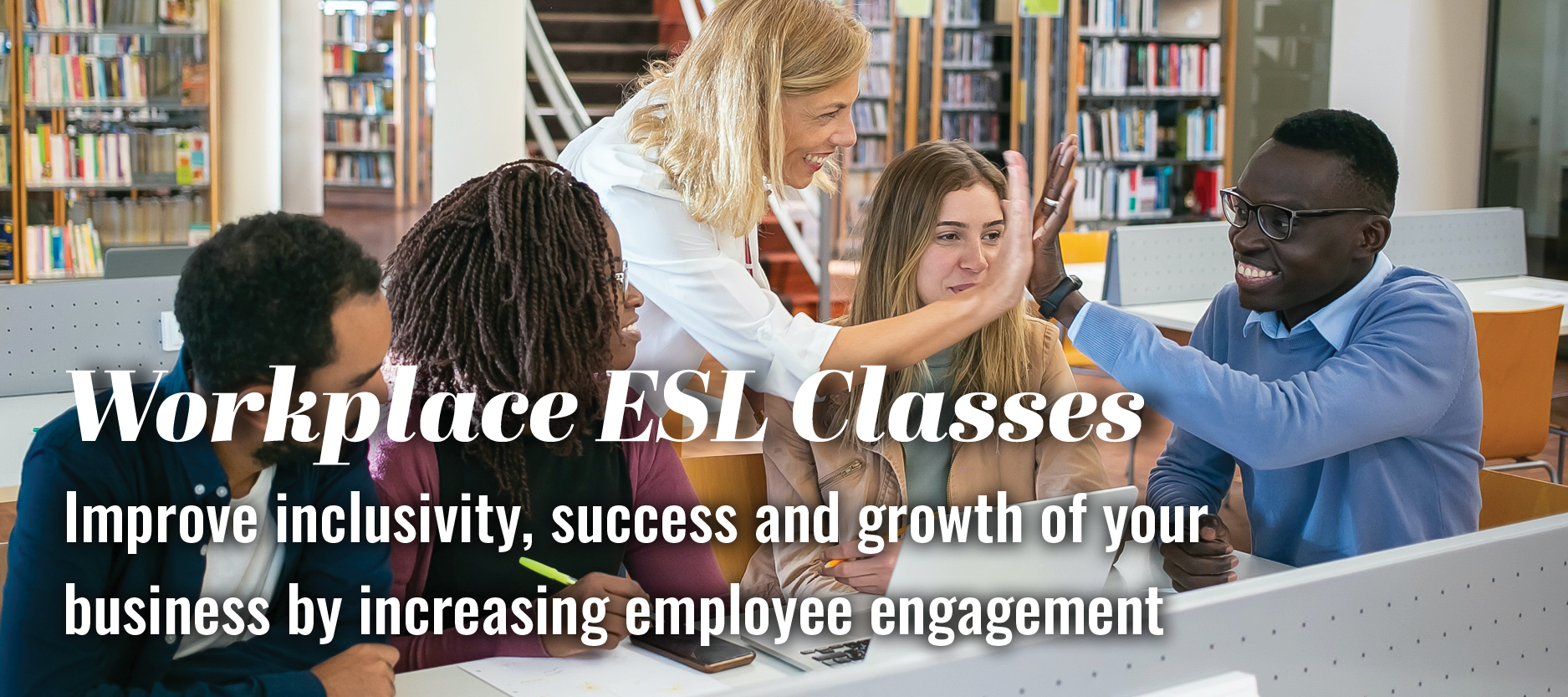 Are you looking for ways to show that your investment in welcoming diversity, equity and inclusion into your workplace isn't just for a day, but rather part of the way you do business?
Do you know that you have untapped employee potential hiding behind a language barrier?
Have you ever witnessed miscommunication in your workplace and wondered if cultural differences weren't impairing your workplace interactions?
Your Language Connection has the solution to increase communication, overcome language barriers and help you build a workplace that truly celebrates DEI, all because we know that the real competitive edge comes from incorporating the diversity of employees who have come to call America home.
Sponsoring Your Language Connection English classes for your employees who may not speak English at home evidences a desire to invest in your talent and displays a commitment to recruiting and maintaining a diverse workforce.
Our onsite English classes allow your workers time to practice their English with other employees, and gives them culturally rich situations where they can both discuss their home cultures and practices while learning about the culture and behaviors of their new home.
If you think back to where and how you learned to behave on the job, you'd probably cite your parents as the ones who mostly taught you the unwritten rules of workplace etiquette and what employers expect of their employees. Now imagine if you had to navigate a different culture and a set of expectations that you and your family don't fully understand.
Workplace ESL classes can help to retrain employees on some of the subtle points of workplace conventions. For example, an employee who was taught at home not to question his boss may not be a great fit for a workplace that's trying to build a culture of safety by reevaluating their practices. An employee who doesn't feel comfortable speaking up in the face of authority may be led to another employment opportunity over a misunderstanding of benefits or a concern that could have been remedied with a simple adjustment.
Your Language Connection offers fully customizable onsite English language classes that address communicative goals and cultural competency in a way that engages learners, teaches them while they have fun, and helps to build overall workplace climate, cooperation and camaraderie. We also offer workshops on a wide array of cultures specific to the workplace environment. Contact us today to see how we can help your business thrive!