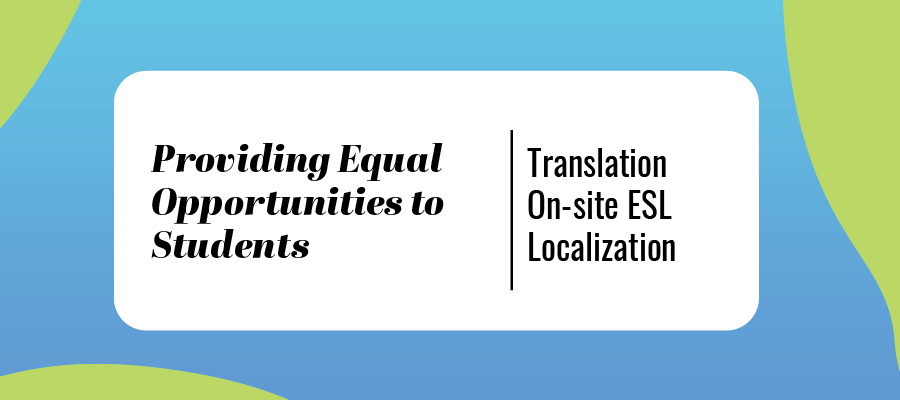 School is just around the corner! Even though parents may be excited to get their kids to school, kids are not always so excited. Many are nervous about starting at a new school or a new grade level. Early Intervention and ESL services are critical to helping new(and experienced) students feel comfortable and provide them with the same opportunities for learning and developing that native English-speaking children have at school.
Why is translation important to schools?
Translation services are crucial in the educational system in order to provide students equal access to education, and the equal opportunity to further their education and move forward academically. With the help of Linguists to provide translation, the teachers and students are provided with meaningful verbal and written communication to further their academic progress.
Why is translation important to the students?
One in 4 children in the US – more than 12 million students – speak a language other than English at home. In order to ensure students and teachers understand one another, translation services provide a way of building cross-cultural bridges by sharing knowledge in a way to cross language barriers.
Who helps non-native English-speaking students at school?
ESL Directors, teachers, mentors, and linguists all work with non-native speaking students in the school system. They anticipate the needs of the students and families, and arrange for translators, inform the administration, front office, and classroom teachers. The more information that can be obtained from the student and family, the better, as it is important for the ESL teachers and classroom teachers to adjust their classroom teaching to meet the needs of students with limited English proficiency.
What does Early Intervention do to help non-native English speakers?
Early Intervention's objective is to assist children in reaching their maximum age-appropriate educational and developmental milestones.  By providing these milestones, they are given an equal opportunity to grow and learn, thus equipping the child to enter kindergarten with the opportunity to be successful in school.
What do ESL directors and providers do to help non-native English speakers?
ESL (English as a Second Language) teachers and directors provide English Language Lessons to non-native speaking students. Working in schools and educational settings, they teach children and adults by understanding the student's and adults' cultural backgrounds. They are familiar and trained in second language approaches and techniques in a way to understand the individual needs of the students or adults.