We Have An Exciting Update!!!
Reem is home!!! 
We are so grateful our dear, dedicated, kindhearted YLC family member, Reem Desouky, is back on American soil and reunited with her son, Moustafa Hamed. She was finally released from an Egyptian prison after 301 days, and flown back to the US!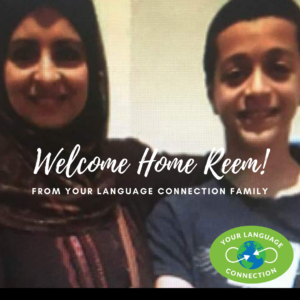 Since July, we have carried her close in our hearts and prayers, sending letters and making calls with great determination and commitment to change the injustice she was enduring. Thankfully, after the continuous pressure from the Freedom Initiative, a group that campaigns for the release of political prisoners in the Middle East, pressure from the current Administration, phone calls and letters to government officials and agencies by you and members of the community, along with a heartfelt personal video plea from her son to President Trump, she was released.
We rejoice in her return, but also continue to remember and hold those close that still remain in the Egyptian prisons awaiting their release, as well as those who lost their lives while imprisoned unjustly. Our heartfelt prayers go out to each of them and their families. 
We would like to extend a special thank you to each of you who participated and were an integral part of getting her story out there, and especially grateful for the part you played in her release and return home. Your actions made this possible.
Previous Post
Thank you for your past interest in supporting Reem Desouky, a Lancaster resident, who has been detained in Egypt since July 2019. 
It is a critical time to reach out to elected officials again to put pressure on the State Department and the Trump administration to negotiate Reem's release. Below are some key updates to Reem's situation. Attached you will find a sample letter and contact information for elected officials. 
*Reem has been tortured in prison according to human rights advocates.*Reem is engaging in a hunger strike. She has not had food in days. She is among 300 prisoners in Egypt's prison system who are striking. US citizen Mustafa Kassem, also a father of young children, died last week as an end result of his hunger strike. It is believed there are 6 US prisoners in Egypt including Reem.
*Reem was transferred yesterday to a women's prison and is both ill and depressed. The torture by male guards at women's prisons is feared to be worst than where she was.
*Reem's son, Moustafa, is scheduled to visit her in 4 days. I believe this is to be a result of the transfer. He has not seen her for some time.
*The School District of Lancaster did an amazing job trying to support Moustafa with cyber school access so he could stay on course with his studies. He was an honor student in the district. Because of inconsistent internet connectivity, he has not been able to maintain progress. The internet and electricity are often cut off for hours at a time.
*Due largely to Mr. Kassem's death, there is some movement in Congress to address human rights abuses in Egypt. There are 3 elected officials listed on the contact sheet attached. If you have extra time, you might call their offices to thank them for their support and encourage them to reach out to our elected officials in PA to get them on board.*All of our elected officials (Smucker, Casey, Toomey) are aware of Reem's plight though they may not have these latest updates. I will be in touch with them this week. Rest assured that when you reach them, this will not be news to them. The role, if you choose it, is to impress upon them how urgent this is, that you are not asking for information (they often will say they can't get involved because they don't have Reem's consent.) It is impossible for anyone to get her consent. Our ask is that they urge the State Department to negotiate.
For more information on the situation in Egypt, visit www.pomed.org.
*Info for advocacy is attached. You may write letters OR use this info to call or email elected officials. Modify the letter to the state department as needed.***Please consider sharing the sample letter with your contacts, and organizing letter-writing among any organized group to which you belong—-faith communities, campus groups, professional networks, friend groups.