Do you take care of your aging parents or an aging loved one and are concerned about mental deterioration and how quickly forgetfulness can set in? Are you worried about Alzheimers disease? We have an idea for you…

Did you know that learning a new language can delay the onset of dementia? A recent study provided more evidence to the claim that people who speak more than one language may delay the onset of Alzheimer's disease and dementia.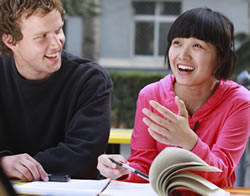 The University of Ghent in Belgium recently published a study that added to the growing evidence that bilingualism can delay the onset of Alzheimer's. For over one year researchers studied 134 people who were all undergoing treatment for probable Alzheimer's. According to the study, 65 of the participants were bilingual or multilingual and the rest were monolingual.
The final analysis from the researchers showed that both the manifestation and the diagnosis of Alzheimer's occurred at least four years later for the bilingual or multilingual participants. The average age of an Alzheimer's diagnosis for monolingual participants was 73 years but for those who were bilingual, it was 77 years.

Not only is learning a new language with Your Language Connection a ton of fun, but it's also good for your health! Check out our list of classes here and sign up today! What a great gift for your aging loved one!!