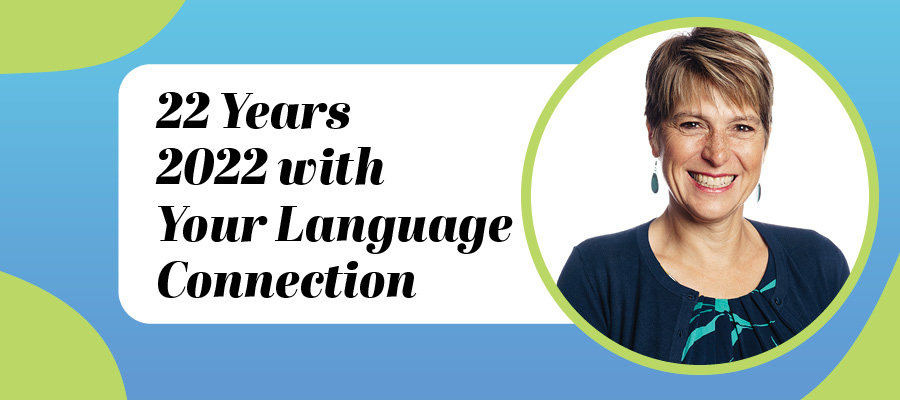 What was the inspiration behind starting Your Language Connection?
The motivation for YLC started with my experience as a university student in Spain. After floundering in Spain, even though I excelled in my high school and college classes, I decided to design a curriculum that takes a conversational approach. My goal was to make language learning accessible, affordable, and doable for everyone. In today's fast-paced world, people do not have 3-5 years to learn a language, but they do find time to learn some basic communication skills in a target language. Our language classes provide basic language skills to help you communicate with your neighbors, coworkers, employees, or customers.
Though I began teaching at my dining room table, we now offer classes in many locations, including onsite customized classes for businesses and organizations. We have increased our offering over the years to include traditional European languages like Spanish, French, Italian, and English, but also have designed courses for Swahili, Arabic, Nepali, and ASL.
What have been some of your favorite parts of running Your Language Connection?
I love to travel and meet people from around the world, learn about different cultures, and experience new foods. Your Language Connection has brought these experiences right to my door! I have met people from around the world, we have been included in weddings, baby celebrations, birthdays, and graduations, as well as a variety of community events. My family and I have learned so much over the years from these experiences and it has helped to shape who we are as neighbors, employees, friends, volunteers, and community members.
YLC is also vital in helping non-English speakers access the wealth of services available to them and helping them communicate with important people in their lives, like employers, supervisors teachers, and healthcare professionals. We receive notes of gratitude regularly from our clients and those they serve or employ. It is a great feeling to know that the business I started at my dining room table 22 years ago has positively impacted the lives of so many people. I feel blessed and grateful to own and manage a company that has made such a positive difference in many lives.
What have you learned over the years that has impacted how YLC operates?
Starting out as a small business, intent on catering to the community I lived in, I saw a vision for a subset of our community – friends, neighbors, schools, churches, organizations, and small businesses that were in need of a helping hand when it came to their everyday lives and the lives of those around them. Twenty-two years ago, that vision was one of striving to give back. Throughout the years, as YLC grew, it became apparent that the vision for a subset was turning into an immediate need throughout our community, without borders or limitations, and with the excitement of growth and continuous diversity, there was a growing need to continue to reach out to more sectors that were not being heard but were falling through the cracks. This became completely and totally unacceptable to me as well as the linguists I worked with on a daily basis. There was an immediate need for more linguists to share their talents and professional expertise and ethics with family communities that were growing and prospering. Our calling to help others has taught me, especially in the climate we are facing today, to open our arms and hearts wide and make it a commitment to allow every voice to be heard, every question answered, every opportunity given, and expand that vision from 22 years ago to today, with great empathy, compassion, and heart and soul-felt motivation and determination, by growing with the families calling Lancaster their home, supporting our clients and continuously bringing on board more diverse and sought-after linguists able to provide languages I never would have dreamed would be a part of our community. By constant teaching, training, and growth in the number of linguists and languages we provide, the vision has not only turned into a reality but has been a true gift, which has blessed each of those associated with YLC ten-fold. We are anchored in teaching one another the human factor that resonates not only in our community but globally — helping one another to the best of our abilities!
In what ways have you positively impacted the Community?
We always use the phrase that YLC is a win-win-win type of business.
First and foremost, our linguists help businesses and organizations communicate with their clients, employees, and service providers. With unbiased, clear communication, mistakes are avoided, services are accessed, safety is improved and people clearly understand what is expected of them. We provide the pathway to clear communication no matter what languages are spoken. Our clients LOVE us!
All of our linguists are independent contractors and can choose their schedules. In this industry, there tends to be a high rate of turnover. However, here at YLC we do NOT see a lot of turnover because the linguists love what they do and really enjoy being a part of the YLC family. We have trained many professionals to be linguists and some of them are then able to use these skills to advance their careers. Some of them take jobs with our clients because of the job security and career opportunities that a language agency cannot offer. It is a great feeling to know that, though we are NOT a training agency of any sort, we have helped many people improve their language skills, learn more about their community, and gain skills to use for career advancement. Many have worked with YLC for more than 10 years and become familiar with clients' needs and terminology. Most of our linguists are specifically requested because of client satisfaction. That is a GREAT feeling for our linguists who take a lot of pride in their work.
We help solve problems through communication. We help community members advance in their education and careers. We positively impact many people through our services. We LOVE what we do! Our passion for our work encourages us to continue to learn, grow and improve our services for diverse communities as they grow.
Want to Learn More? Contact Us Below: