Since we are literally doing almost everything online these days… as the time of face-to-face business dealings, workplace meetings, and parent-teacher conferences become a thing of the past, Your Language Connection is doing everything possible to help bridge the communication gaps in our community.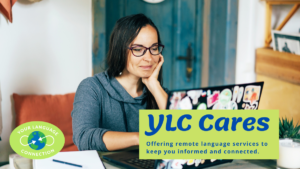 Some of our interpreters have been taking free online training to improve as remote interpreters which seems to be the new normal in many situations. We also recommend that our clients take them because it's good for them to know how it works as well. It is different than in-person interpreting.

Michelle Salinas, CEO/Founder, Your Language Connection
YLC team members take initiative with improving and growing as professionals and we take this current pandemic very seriously. Let us know how we can better serve your needs in your professional and personal lives. Currently, we are offering Remote Translation, Remote Interpretation Services, and Online Classes. Contact us today about any of these services at michelle@yourlanguageconnection.com.