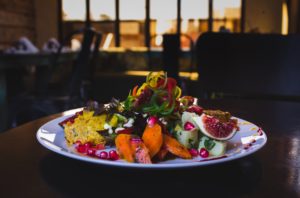 Here are some of our other favorite local ethnic restaurants we love to support!
Taj Mahal Indian Cuisine: Every dish at the Taj Mahal features its own distinct flavor and personality and is made from the freshest ingredients. Many of our recipes have been passed down from generation to generation. While many believe Indian cuisine is too spicy, at the Taj Mahal, we understand that flavor, not heat is what makes our dishes stand out. Our entrées include a unique blend of spices that are full of flavor, yet mild enough for children to enjoy. The buffet is also a great way to sample a variety of Indian cuisine and experiment with different flavors and textures.
El Serrano Restaurant: The food service industry has been very good to Manuel Torres and his family. Initially operating a stand at the York Fair and strongly influenced by his sister who owned a catering business in Peru, Torres graduated from the Restaurant School of Philadelphia and worked at some of the finest dining establishments in that city.
Callaloo: At Callaloo, our passion is to create delicious food through chef-driven creativity and authentic Trinidadian flavor. As a colonial-Caribbean island nation, Trinidad & Tobago's cuisine is a rich fusion of many traditions and cultures. Pair the south-Asian and African-creole influences with the availability of unique tropical ingredients, and you get an unforgettable and inspiring range of flavors and combinations.
Grape Leaf Café:  was established in 2018, and empowers refugee and immigrant  women in the Lancaster Community by creating an outlet for them to prepare their own authentic ethnic food and share it with the community. This café is considered a  "pop-up" and participates in local events during the warmer months. In the first year there  have had numerous dishes made from: Syria, Somalia, Sudan, Congo, Pakistan & Ethiopia. We have an awesome team of servers who are primarily local high school and college students!
Namaste Restaraunt: A very organized buffet featuring excellent quality and nice selection of choices. Buffet has moderate changes daily with some consistent dishes,ie tiki Marsala. The tandoori chicken is first rate and the best in Lancaster. All you can eat for under 10 dollars is quite the bargain. 
 Hopefully you'll love our selections too and will support our local ethnically diverse restaurants!